---
Starters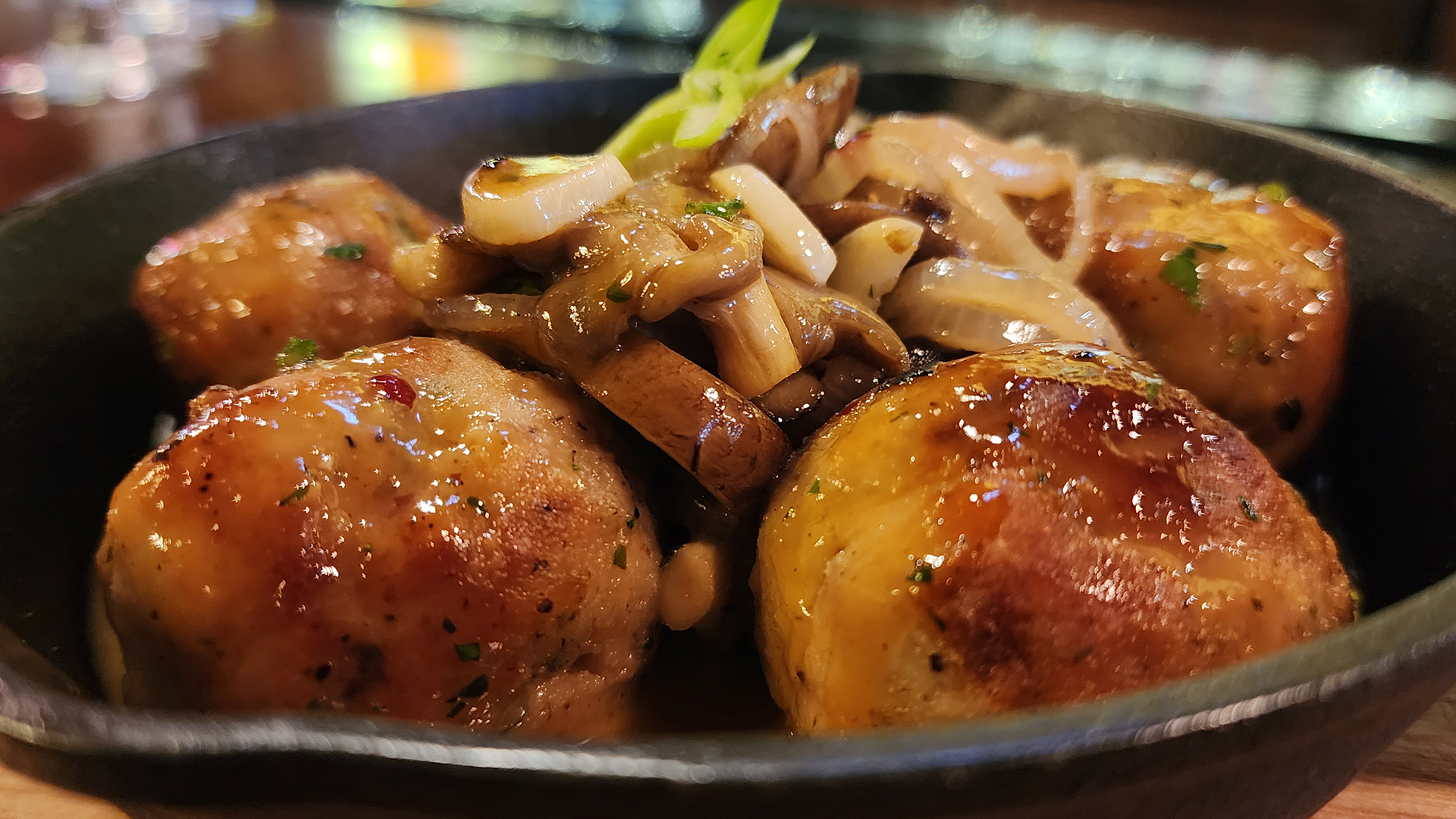 ---
Brisket-Stuffed Jalapeños | 18
Jalapeños stuffed with smoked brisket and cream cheese, wrapped in applewood bacon, house made sauce.
Shrimp & Grits | 19
Bacon-wrapped jalapeno shrimp, cheddar grits, and a zesty tequila pineapple mango sauce
Pork Meatballs | 15
Dry Aged Duroc Pork meatballs in a Marsala wine sauce with sauteed wild mushrooms served with toasted baguette
Oysters "Rockefeller" | 19
Fresh Gulf oysters with creamed spinach, shaved cheeses, and crisp bacon
Calamari | 18
Lightly fried, topped with shaved parmesan and served with roasted red pepper coulis.
Truffled Fondue | 14
Truffle infused Imported Percorino melted into a rich heavy cream served with crisp pancetta, seasoned oils and warm bread for dipping
---
Salads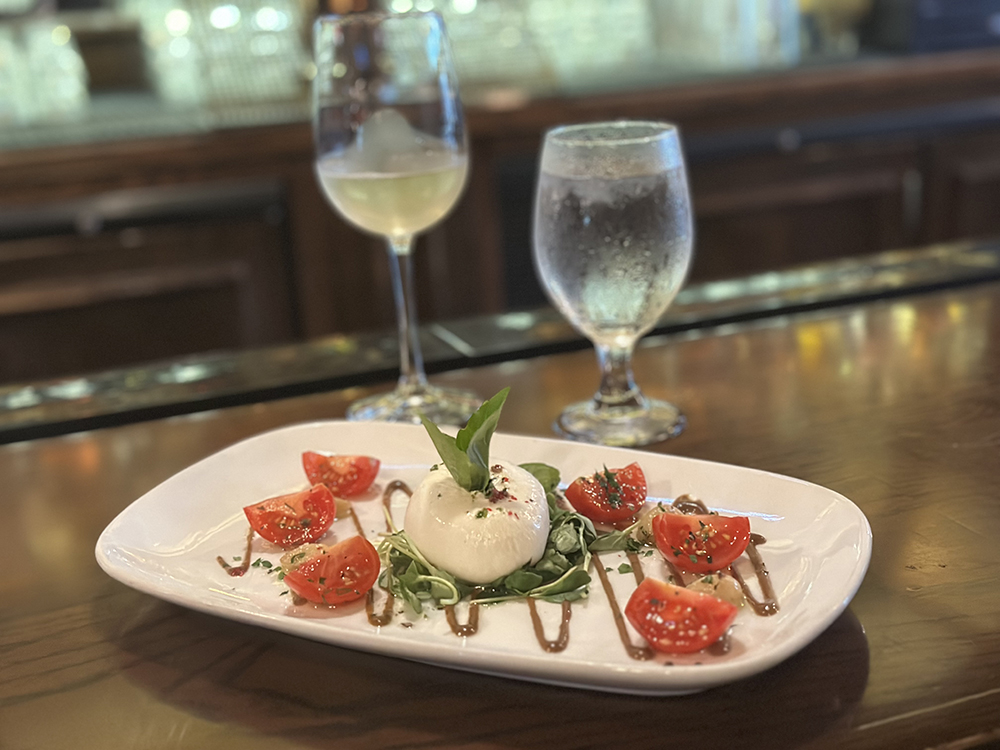 ---
House Salad | 8
Crisp mixed greens, spiced pecans, dried cranberries, mandarin oranges and feta.
Greek Salad | 12
Mixed greens, cucumber, Kalamata olives, pepperoncini, tomato, red onion, feta and Greek dressing
Roasted Beet Salad | 12
Roasted beets with micro arugula, apricot Wensleydale, shaved red onion and candied walnuts dressed with citrus-pink peppercorn vinaigrette
Classic Caesar | 10
Crisp romaine hearts and sour dough croutons tossed with our house made dressing
Wedge Salad | 10
Crisp wedge of iceburg lettuce, grape tomatoes, red onions, bacon and Maytag blue cheese
Homemade Soup | 10
A Chef created soup, ask your server what he has prepared for you today
---
From the sea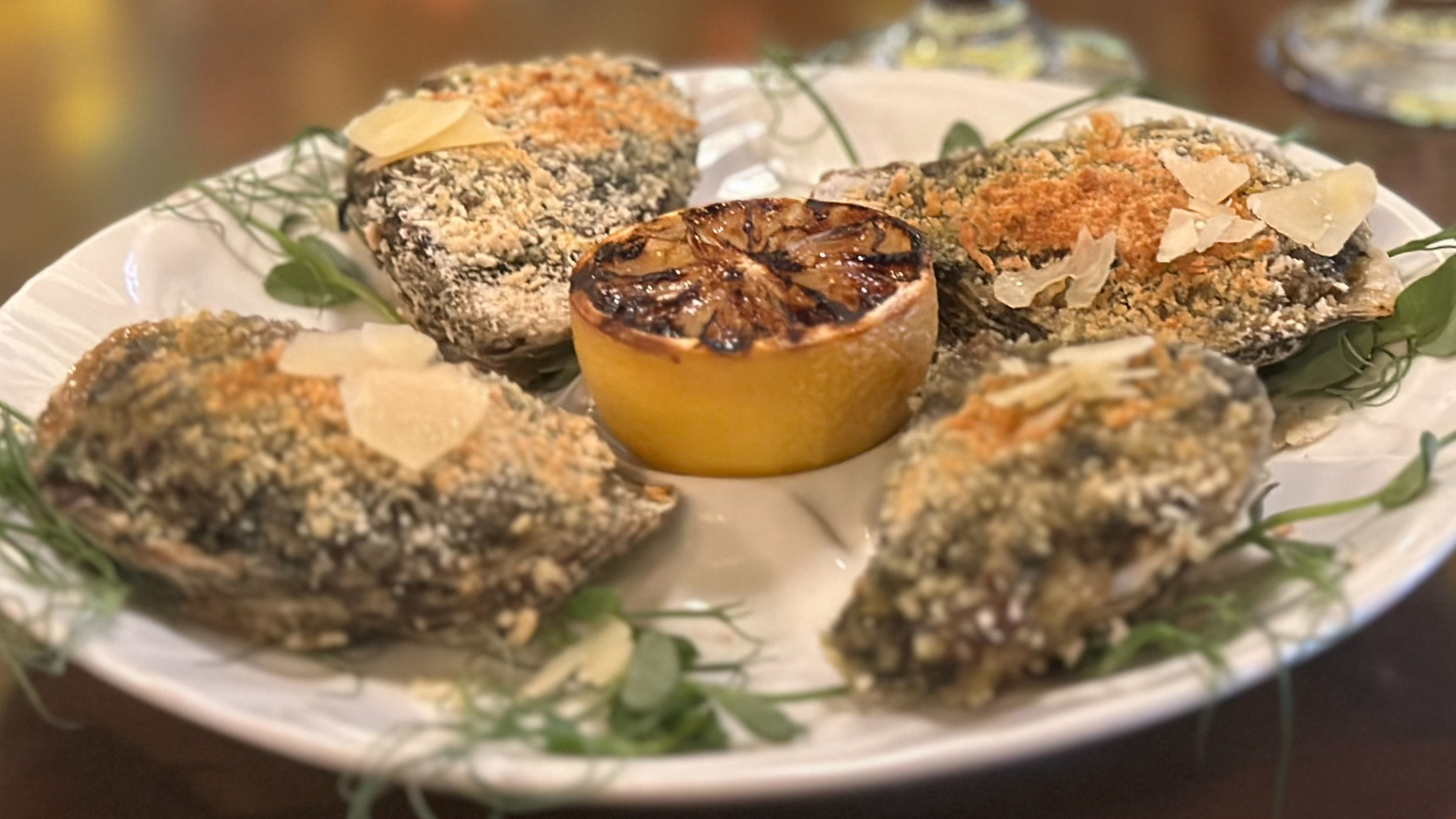 ---
Jumbo Gulf Coast Shrimp | 33
Grilled or fried shrimp over creamed spinach and wild rice pilaf
Wild Caught Salmon* | 34
seared and served with creamed spinach, risotto cake and a rich orange-basil cream sauce
Seared Jumbo Scallops* | 48
Fresh Ocean scallops seared and served with sauteed brocolini, cheesy heirloom grits and a rich tomato bacon cream sauce
Fresh Catch | Market
We serve the highest quality seafoods available. Please ask your server about today's selection
---
Steaks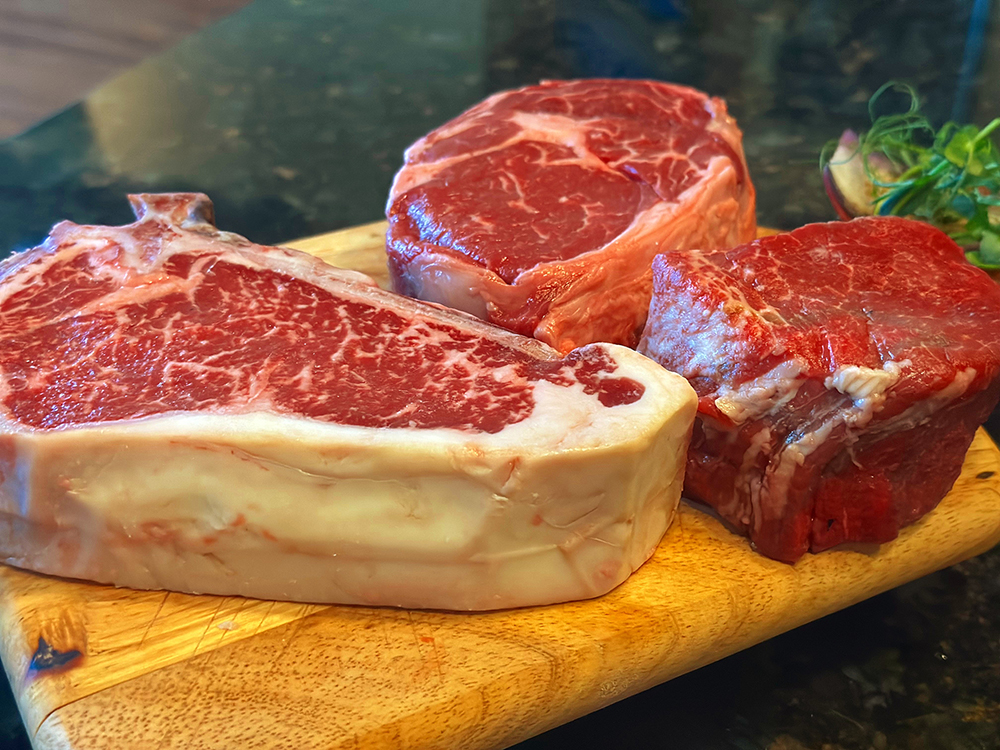 ---
Served grilled to your taste with garlic mashed potato and seasonal vegetables
The "Working Man" | 38
12 ounces of "Baseball Cut" Sirloin
The "Special Occasion" | 59
14 ounces of center-cut Ribeye
The "Business Man" | 50
12 ounces of center-cut New York Strip
The "Top Shelf" | 62
8 ounces of center-cut Tenderloin
---
Steak Add-Ons
---
---
Crossroads Favorites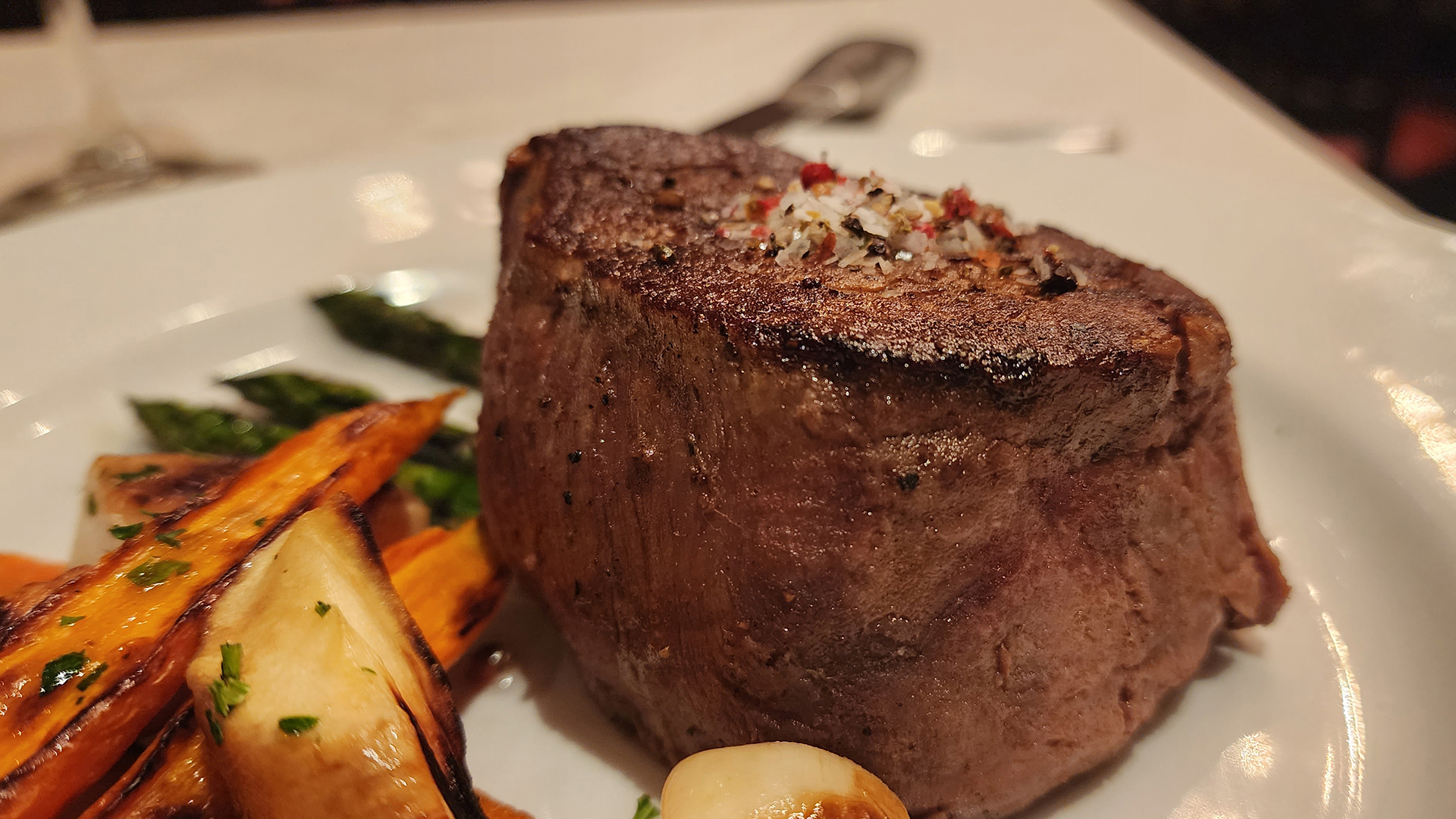 ---
Prime Rib* | 56
USDA Prime.
16 oz. of prime rib. served with choice of two sides, horseradish cream and au jus. Limited quantity nightly.
Surf & Turf* | 58
12 oz. NY Strip. Served with bacon wrapped jalapeño shrimp, baked potato and brocolini
Pork Chop* | 38
12 oz. Dry Aged Duroc bone-in chop served with garlic mashed potatoes, brussels sprouts and apple compote.
Chicken Fried Steak | 27
Akaushi Beef served with garlic mashed potatoes and seasonal vegetable topped with homemade peppered gravy.
Herb Roasted Chicken Au Jus | 27
Half-chicken seasoned with fresh herbs, garlic mashed potatoes, seasonal veg and a whole grain mustard jus.
Grilled Texas Quail* | 34
Local Texas Quail served with Macadamia wild rice, honey glazed winter vegetables then brushed with seasoned oil
---
Sides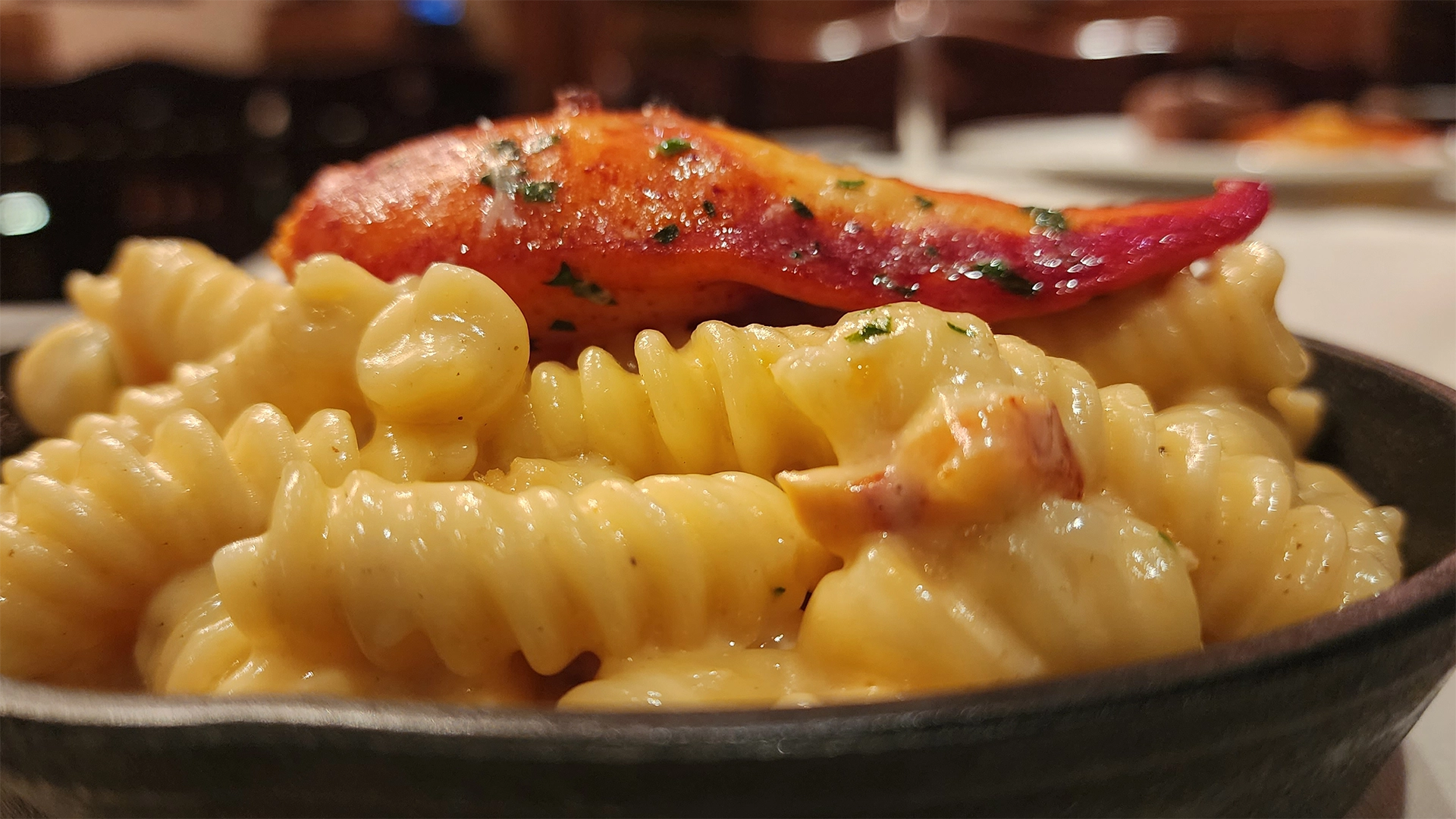 ---
Cheesy Heirloom Grits | 6
---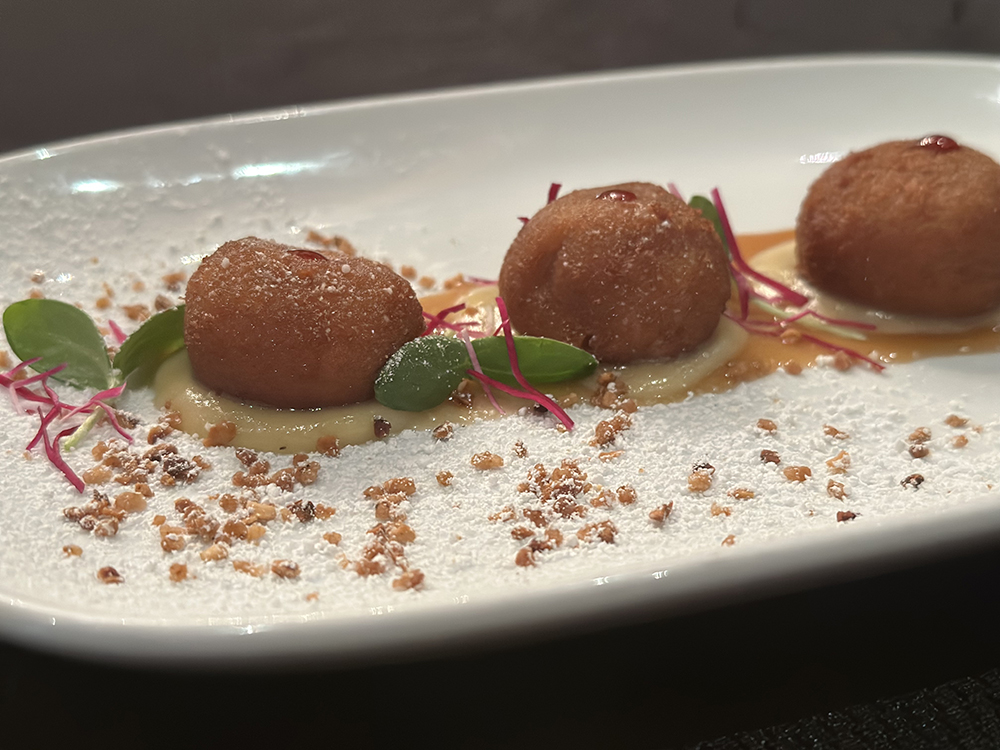 ---
Fredericksburg Peach Pie | 12
Cinnamon, brown sugar, vanilla, in puff pastry. Vanilla ice cream, caramel, hazelnut praline
Bete Noire | 12
Flourless chocolate torte, golden chocolate ganache, cocoa bacon, almond praline truffle, bourbon caramel
S'more Brownie | 12
Valrhona chocolate Brownie, graham crust, toasted marshmallow, Belgium chocolate ice cream
Creme Brulee | 12
Grand marnier and vanilla bean custard, caramelized sugar, house made macaron
Fried Strawberries | 12
Fresh strawberries, graham cracker crumb, cacao nibs, chocolate pearls, selection of Italian gelato
New York Style Cheesecake | 12
Cream cheese, vanilla bean, graham cracker crust
Add-ons (+$2): Chocolate, Caramel, or Raspberry Sauce
Amarena Cherries | 4
Bourbon Peach & candied pecans
Ice Cream & Fresh Berries | 7